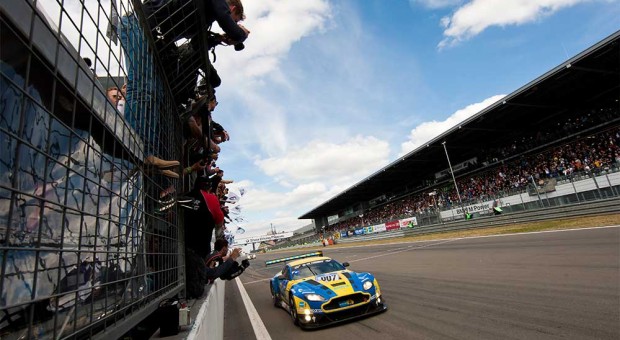 Top five finish for Aston Martin in Nürburgring 24 Hours
Aston Martin has finished fifth overall in the 2014 Nürburgring 24 Hours, in its #007 V12 Vantage GT3 and has taken three class podiums with its close-to-production V12 Vantage and pair of V8 Vantage N430s. However, in the final laps the car was locked in a gripping battle for fifth place, but it was Aston Martin Racing works driver Lamy who came out on top.
The iconic blue and yellow Bilstein-liveried #007, which recorded the fastest lap of the race with Darren Turner (GB) behind the wheel, completed 156 laps of the 25-km race and showed the pace and reliability to be in contention for the win. However, refueling issues early in the race hampered the charge and Turner and his team-mates, Stefan Mücke (DE) and Pedro Lamy (PT) were left playing catch up for most of the race.
In the SP10 class, Nürburgring experts Andreas Gülden (DE) and Oliver Mathai (DE) were joined by British journalists Dickie Meaden and Chris Harris, and together they finished in second place in the V8 Vantage N430's maiden race.
Aston Martin customers Liam Talbot (AU), Egon Allgäuer (DE), Peter Cate (GB) and Marcus Mahy (GB) finished in second place in the SP8 class for cars over 4.0-litres in the #55 Aston Martin Test Centre-prepared V12 Vantage.
In the same class, the #70 Vantage N340 competed with a team of drivers from the Test Centre, joined by Australians Mal Rose and Peter Leemhuis and, despite a minor issue with the cooling system due to damage from debris on track, the team still took third in the class.
---
Source, please read more.
(Visited 2 times, 1 visits today)