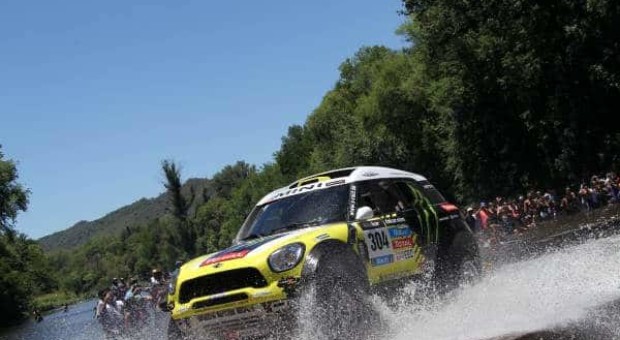 Joan Roma claims second day victory in the MINI ALL4 Racing
The MINI ALL4 Racing put all his strengths on display during the 2014 Dakar Rally's fifth leg from Cilecito to Tucamán (both AR) on Thursday. With Joan "Nani" Roma (ES) behind the wheel of the Monster Energy X-raid Team's yellow MINI ALL4 Racing, the car showed reliability as well as its agility on a day that challenged all competitors to the most on a terrain consisting of soft dune sands as well as typical off-road sections. Roma and the MINI ALL4 Racing, which is based on the MINI John Cooper Works Countryman and modified by the Germany-based X-raid Team to excel in the tough Dakar conditions, mastered it all.
While the organisers had to shorten the route by 99 kilometres, Roma remained focused on the goal not only to perform well during the day but also to reclaim the overall Dakar lead from Carlos Sainz (ES) who had taken it the previous day. When Roma reached the day's finish line it was mission accomplished for him as his competitors proved to be slower
In addition to Roma's second 2014 Dakar day victory, three more MINI ALL4 Racing drivers were able to move up in the overall standings. Nasser Al-Attiyah (QT) who finished the day in fifth is now second overall. Third is Orlando Terranova (AR) after he pleased his home crowds while going fourth for the day. And last but not least it was eleven-time Dakar winner Stéphane Peterhansel (FR) who moved into fourth overall thus giving the X-raid Team and the MINI brand a one-to-four in the overall rankings.
On day six the cars head north for the final leg before the rest day on Saturday while the drivers cross some of Argentina's most attractive scenery on the iconic Routa 40. After that it is a well-deserved one-day rest in Salta (AR).
---
Source, please read more.
(Visited 2 times, 1 visits today)