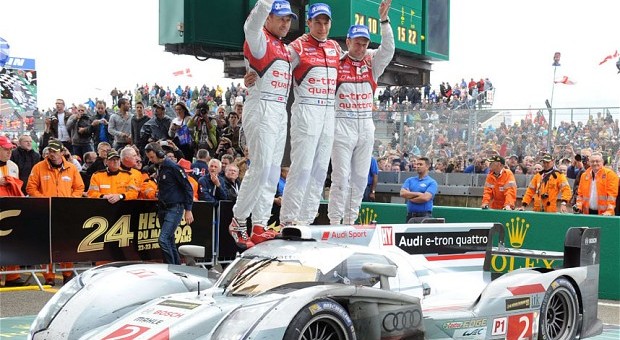 Lucky Number 13 for Audi: Brand Celebrates 13th Win at Le Mans
Audi cashed in on lucky number 13 this weekend when the brand became the victor of the annual 24 Hours of Le Mans, the world's most important endurance car race, for the 13th time.
This weekend may have been the most valuable win to date, as Audi Sport Team Joest prevailed against stiff competition. Marcel Fässler/André Lotterer/Benoît Tréluyer (CH/D/F) and Lucas di Grassi/Marc Gené/Tom Kristensen (BR/E/DK) made for the one-two Audi victory.
In celebration of the brand's victory, Audi has displayed lucky number "13" on a multi-storey LED tower of lights, located in the Greenpoint neighborhood of Brooklyn, New York. Throughout the month, the LED "scoreboard" will be updated with additional sports-related news.
Audi has been competing at Le Mans since 1999 in order to achieve sporting success with technological innovations. Never before has an LMP1 race car sporting the four rings been as light, fuel-saving and efficient as the current Audi R18 e-tron® quattro® vehicle.
As required by the regulations, its fuel consumption per 100 kilometers had to be up to 30 percent lower than that of the previous models. Despite these tough requirements, the victory of the two Audi R18 e-tron quattro cars was only made in the final phase of the race.
For Audi, this marked the 13th victory in the '24 Heures,' the eighth one with TDI® power and the third one with a hybrid race car. The team of Reinhold Joest celebrated its 15th success in the world's most important endurance race.
After wins in 2011 and 2012, Marcel Fässler, André Lotterer and Benoît Tréluyer achieved their third Le Mans triumph.
Source: Audi.
(Visited 3 times, 1 visits today)