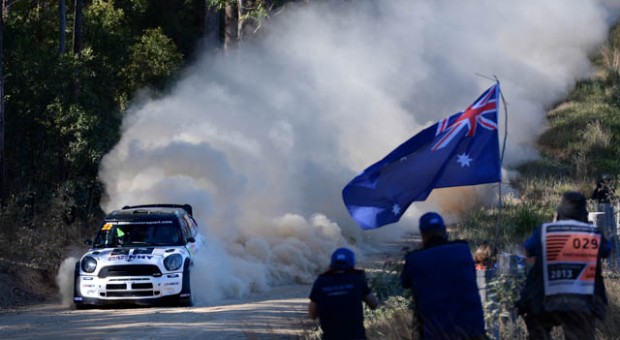 Sebastien Ogier made an impressive start at Coates Hire Rally Australia
Coates Hire Rally Australia is making its second visit to Coffs Harbour – the first one was in 2011, with Rally Australia then alternating with Rally New Zealand. Although Coffs Harbour is a recent addition to the calendar, both the area and the country have a long association with international rallying.
The town, which is 540 km north of Sydney, was the home of the Southern Cross rally as far back as the 1960s, and Australia has been hosting WRC events since 1989, with Rally Australia being voted "Rally of the Year" three times in the late 1990s.
The location itself promises almost perfect conditions for visitors. Regardless of the month, local temperatures range between 19 and 27 degrees centigrade in this temperate region, and September tends to be warm and dry.
The locals also make a real effort – in 2011, a rally car was parked on the town's airport runway to greet visitors, and they even made a WRC sand sculpture in a local shopping centre. The result was over 90,000 spectators, which was a record for Australia.
New for 2013 is a rally hub in the centre of Coffs Harbour, which incorporates the service park and a mixed surface super special stage which runs on Thursday, Friday and Saturday evenings. It features two cars at a time with a simultaneous start on opposite sides of a former velodrome oval, before breaking out onto surrounding streets and finishing back in the oval.
Organisers promise one of the WRC's most compact events ever, with two of the three legs never straying more than 35km from Coffs Harbour. The 353.98km of competition, split between 22 stages, comprises 38 per cent of the route's 930.88km.
Source | credit photo, please read more.
(Visited 1 times, 1 visits today)