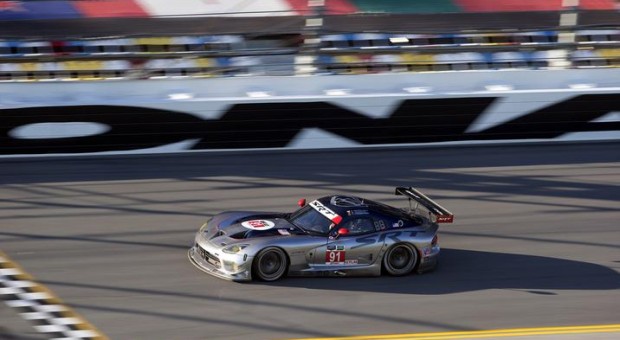 SRT Motorsports Eight-Hour Race Report – Rolex 24 At Daytona International Speedway
The SRT (Street and Racing Technology) Motorsports Viper GTS-R teams paced the way for the GTLM class through eight hours of competition at the Rolex 24 At Daytona International Speedway on Saturday, with both the No. 91 and 93 Vipers leading the class.
SRT Motorsports driver and 2012 IndyCar champion Ryan Hunter-Reay was the third wheelman to climb into the No. 91 Viper GTS-R and pushed the car into the 10th overall position and GTLM lead just prior to the eight-hour mark.
Before Hunter-Reay piloted the vehicle, Marc Goossens started the race from the pole position and Dominik Farnbacher drove during the race's second segment with both drivers leading the class for multiple laps.
In the SRT Motorsports No. 93 Viper GTS-R, two-time European Le Mans Series champion Rob Bell drove the third stint for the team and also spent time pacing the GTLM class, as did his teammates Jonathan Bomarito and Kuno Wittmer.
The SRT Motorsports No. 91 and 93 Viper GTS-Rs both first led in the race's opening hour with first-stint drivers Goossens and Bomarito, respectively.
All six SRT Motorsports Viper GTS-Rs drivers led laps in the GTLM class during their respective opening stints in the endurance event.
Working hour eight of the Rolex 24 At Daytona and approaching the one-third complete mark, both SRT Motorsports Viper GTS-Rs have been in lead pack contention throughout the race.
---
Source & Photo Chrysler SRT, please read more now.