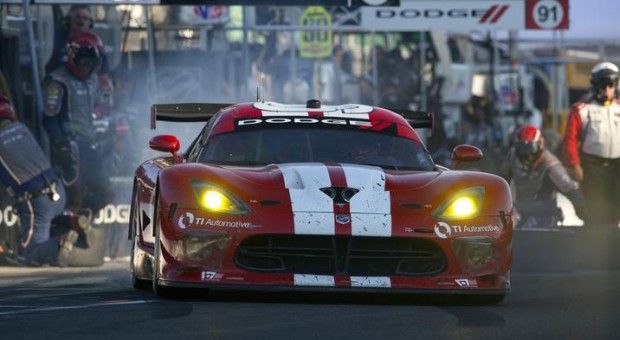 SRT Motorsports Post-Race Release – Road Race Showcase at Road America
SRT (Street and Racing Technology) Motorsports finished third and fourth with its pair of Dodge Vipers SRT GTS-Rs in a competitive yet caution-plagued Road Race Showcase at Road America on Sunday, the eighth round of the IMSA TUDOR United SportsCar Championship for the GTLM class.
Drivers Jonathan Bomarito and Kuno Wittmer pressured the runner-up finishers to the checkered flag for a third-place showing in the No. 93 Dodge Viper GTS-R. The result marked the two-Viper team's sixth podium finish in the last four races. In total, SRT Motorsports has a GTLM class leading eight podium finishes this year, including a victory in the Brickyard Grand Prix at Indianapolis Motor Speedway, three runner-up finishes and four third-place showings.
Jonathan Bomarito, driver, No. 93 Dodge Viper SRT GTS-R – How was your race?
"The race was wild. It was a wild one. It was very broken up with all those yellows. We were actually hoping for a little bit longer run. We were very good on tires over the course of a stint. It was up and down. We had a long pit stop where we lost some spots and then we had an amazing pit stop and made up some. The guys came back strong, so hat's off to them. Kuno did a good job. It was just a tough race out there today."
The No. 91 Dodge Viper SRT GTS-R of Dominik Farnbacher and Marc Goossens finished fourth after leading early in the race. Farnbacher moved to the front on lap two and held the top spot for the next 16 circuits around the 4.048-mile Road America road course.
Goossens also set the fastest GTLM lap of the race in the No. 91 with a time of 2:05.267 just minutes from the checkered flag.
Dominik Farnbacher, driver, No. 91 Dodge Viper SRT GTS-R – How was your race?
"We started third and in just a few laps, I was leading the race. I had a hard time fighting with the PC cars because they couldn't really get up to speed and they were holding me up. I had contact with one and I'd like to apologize to Mr. Bennett (Jon Bennett, No. 54) for that. I didn't do that on purpose. It was a yellow and I was right on his bumper and he probably saw the flag before I did and that's why I ran into him. Again, I apologize to him."
The race was slowed by six full-course caution periods that accounted for just over 90 minutes of the two-hour and 45-minute race. Although the absence of any long, green-flag runs may have hampered SRT's chances to race for the win, it eliminated the usual fuel-conserving concerns that are always present at a track the length of Road America.
The Viper drivers also did a masterful job of avoiding on-track contact and incidents that plagued many competitors.
The runner-up showing moved the No. 93 team five points closer to the points lead in the IMSA TUDOR Championship GTLM standings. After arriving in Road America 13 points out of first, they now trail by just eight markers with three races remaining.
SRT Motorsports next competes at Virginia International Raceway on Sunday, Aug. 24 for the ninth round of the 2014 season for the GTLM class. The race can be seen live on FOX Sports 1 at 4 p.m. EDT.
---
Source, read more.
(Visited 1 times, 1 visits today)