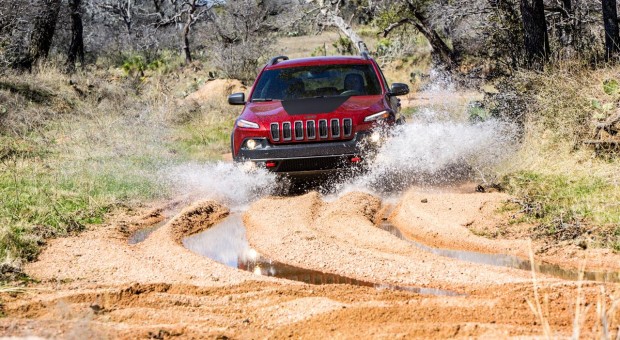 The Jeep Cherokee Trailhawk and Jeep Wrangler Dragon Edition—New High-performance Models of the Off-roaders We Love
The Trailhawk
Jeep has recently raised its Jeep Cherokee from the dead, and brought forth a specialty all-terrain model affectionately named Trailhawk. Like the new and improved version of the best-selling Cherokee, Trailhawk comes with a new nine-speed automatic transmission, two engine options, three new 4×4 system options for optimum performance and user preference, and an impressive fuel economy 45% greater than the former model.
The Trailhawk is the Cherokee's souped-up brother, automatically equipped with a one-inch lift, skid plates, front tow hooks outfitted in red, front and rear fascias that enable it to climb and descend at aggressive angles, and five terrain modes. Its ground clearance is an impressive 8.7", and approach and departure angles are 29.8 and 32.1 degrees respectively.
The model received Jeep's trail rating, a badge marking its ability to perform in off-road conditions that test traction, ground clearance, maneuverability, water fording, and overall articulation (the flexibility of the Jeep's suspension that enables wheels to move independently of one another). It's truly Jeep's high-performance mid-sized SUV designed specifically for off-roaders.
The Dragon
After unveiling the concept at the 2012 Beijing Motor Show and receiving overwhelmingly positive support (perhaps due in part to 2012 being the Chinese year of the dragon), Jeep has decided to produce the special edition Dragon in limited quantities available this fall.
The special edition comes with a $13,700 price base increase over the Wrangler Sport, but boasts a black and bronze exterior with dragon decals running along the length of it and a dragon outfitted spare tire cover.
In a press release, Jeep announced "The dragon symbolizes strength and power and is an aspirational character normally associated with royalty and good fortune." The Wrangler Dragon is Jeep's vision incarnate.
Jake Gier is often found stuck in the mud miles outside of Boise, Idaho. When he's forced to return to town, he writes about his adventures for Tread Depot. He calls his outings "research."
(Visited 8 times, 1 visits today)