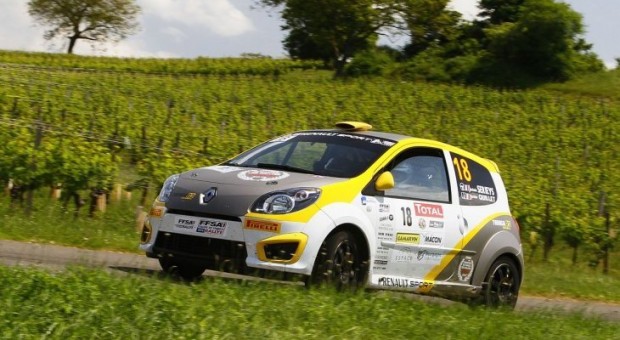 Represented by a number of crews intent on victory in their respective categories, the Renault Sport rally range will be out in force at the Rallye de France Alsace. Spearheading the RS challenge will be Jeremie Serieys and Nicolas Romiguiere, the first two winners of the French Junior Rally Championship, and reigning Swiss Junior Rally champion Thomas Joris. Driving the Twingo R.S. R2 Evo, all three will have the chance to show what they can do in a high-class field.
A fixture on the WRC calendar since 2010, the Rallye de France Alsace is an event with a unique appeal for both young and local drivers alike. Some 14 of the 88 crews will be competing in cars from the Renault Sport Technologies rally range.
Appearing in Alsace in the colours of the Collectif Equipe de France FFSA Rallye, last year's French junior champs Jeremie Serieys and Justine Quillet will once again be at the wheel of the Renault Twingo R.S. R2 Evo, with Renault Sport Technologies on hand to support them. This weekend's event is the last on their 2013 programme, which has been built around the French Rally Championship. Improving with every appearance, the duo are relishing the chance to gauge their abilities against some very stiff competition.
Nicolas Romiguiere and Alexis Negre, the very first winners of the national junior title, will be stepping out in the very same car. Currently second in the Twingo R2 France Trophy, they will be taking to the Rallye de France start line at the wheel of a Twingo they now know like the backs of their hands.
Current Swiss junior champions Thomas Joris and Stephane Fellay are taking part in their maiden WRC event. Backed by Renault Suisse and the promoters of the Twingo R1 Swiss Trophy, they will be competing in a Twingo R.S. R2.
Also lining up will be three Renault Mégane R.S. N4s, one of them driven by Robert Consani, who races for Team Renault Sport Technologies in the ERC and is teaming up here with Vincent Landais. Meanwhile, a total of five crews will be appearing in the Renault Clio R.S. R3, chief among them Alsace driver Olivier Courtois, who will have Kevin Bronner alongside him. Regularly seen in the Twingo R1 France Trophy and the French Junior Rally Championship, Terry Folb and his co-driver Sebastien Poujol are among the other home crews in action in Alsace.
---
Source, please read more.
(Visited 1 times, 1 visits today)