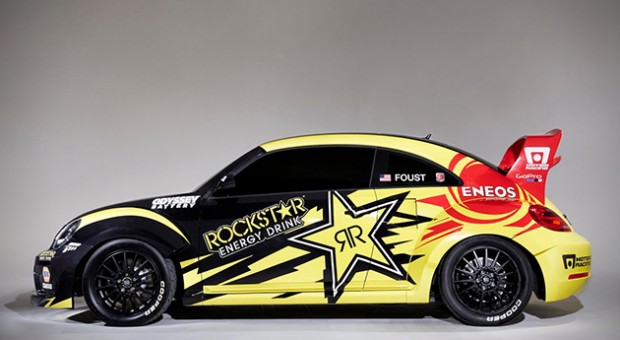 Volkswagen Andretti Rallycross Team presents the GRC Beetle with more than 560 PS and all-wheel drive at Travemünde
When hundreds of Beetle vehicles arrive at the starting line of the Sunshine Tour at Lübeck next Saturday, this car ought to be the most powerful one: a GRC Beetle from the U.S. Global Rallycross auto racing series with all-wheel drive, whose engine delivers more than 560 PS (412 kW).
Volkswagen of America has teamed up for this project with the U.S. car racing specialists Andretti Autosport to form the Volkswagen Andretti Rallycross Team. Tanner Foust and Scott Speed have signed on as drivers of the two Global Rallycross (GRC) vehicles. The team has started off the season with two modified Polos built on the underbody structure of the winning car in the 2013 World Rally Championship. A switch-over will be made on 19 September to the GRC Beetle, like the one being presented at the Sunshine Tour in Europe for the first time.
With this all-wheel driven Rallycross Beetle, Volkswagen is simultaneously presenting in America the most powerful model of the series: owing to turbocharging and direct injection, the TSI engine delivers more than 560 PS.
Rallycross is one of those car racing disciplines in the United States whose fan base is growing most ferociously – both in terms of audience figures and TV ratings. The demanding race circuits consist partly of dusty tracks and partly of asphalt. Owing to the difference of ground levels, the spectators get to see the competing cars do spectacular jumps of over 20 metres long.
Source: Volkswagen Media Sources.
(Visited 1 times, 1 visits today)