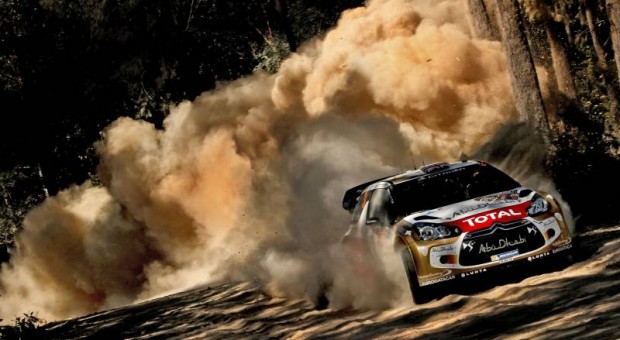 Rally Australia – Final Results
Rally Australia is an automobile rally event which was held in and around Perth, Western Australia from 1988 until 2006, when that state's tourism commission severed its collaboration with the event. The rally was part of the Asia-Pacific Rally Championship in 1988 and the World Rally Championship from 1989 to 2006. The event returned in 2009 to the Northern Rivers region of New South Wales in early September, with automobile parts supplier Repco signed on as joint sponsors of this event and the Rally New Zealand. The event is now planned to be held every second year, alternating with Rally New Zealand.
Organisers promise one of the WRC's most compact events ever, with two of the three legs never straying more than 35km from Coffs Harbour. The 353.98km of competition, split between 22 stages, comprises 38 per cent of the route's 930.88km.
The game is over! The engines are now stopped.
Coates hire Rally Australia – Final Results
1
8
Sebastien Ogier
Julien Ingrassia
Volkswagen Polo R WRC
WRC
3:19:55.0
2
11
Thierry Neuville
Nicolas Gilsoul
Ford Fiesta RS WRC
WRC
3:21:27.1
+1:32.1
+1:32.1
3
2
Mikko Hirvonen
Jarmo Lehtinen
Citroën DS3 WRC
WRC
3:21:57.1
+2:02.1
+30.0
4
7
Jari-Matti Latvala
Miikka Anttila
Volkswagen Polo R WRC
WRC
3:22:52.4
+2:57.4
+55.3
5
4
Mads Ostberg
Jonas Andersson
Ford Fiesta RS WRC
WRC
3:23:12.2
+3:17.2
+19.8
6
9
Andreas Mikkelsen
Paul Nagle
Volkswagen Polo R WRC
WRC
3:23:32.6
+3:37.6
+20.4
7
5
Evgeny Novikov
Ilka Minor
Ford Fiesta RS WRC
WRC
3:27:26.2
+7:31.2
+3:53.6
8
22
Nathan Quinn
Glenn Macneall
Mini John Cooper Works WRC
WRC
3:33:05.2
+13:10.2
+5:39.0
9
10
Khalid Al qassimi
Scott Martin
Citroën DS3 WRC
WRC
3:35:02.6
+15:17.6
+2:07.4
10
48
Abdulaziz Al-kuwari
Killian Duffy
Ford Fiesta RRC
2
3:37:22.7
+17:27.7
+2:10.1
11
82
Yurii Protasov
Kuldar Sikk
Ford Fiesta R5
2
3:38:36.1
+18:41.1
+1:13.4
12
35
Yazeed Al rajhi
Michael Orr
Ford Fiesta RRC
2
3:44:23.7
+24:28.7
+5:47.6
13
40
Arman Smailov
Andrey Rusov
Subaru Impreza WRX
3
4:04:49.4
+45:04.4
+20:35.7
14
99
Stephen Turner
Daniel Willson
Ford Fiesta R2
6
4:06:06.7
+46:11.7
+1:07.3
15
96
Adrian Coppin
Tim Batten
Ford Fiesta R2
6
4:07:22.4
+47:27.4
+1:15.7
16
84
Hayden Paddon
John Kennard
Skoda Fabia S2000
2
4:07:26.9
+47:51.9
+24.5
17
91
Alejandro Lombardo
Alex Haro
Mitsubishi Lancer Evo X
3
4:13:40.9
+53:45.9
+5:54.0
18
94
Martin Grigg
Rachel Messer
Mitsubishi Lancer Evo X – R4
2
4:22:21.4
+1:02:36.4
+8:50.5
19
98
Michael Civil
Jack Civil
Mitsubishi Lancer Evo IX
3
4:25:48.8
+1:05:53.8
+3:17.4
20
86
Carlos J. Garcia fessman
Hugo Magalhaes
Mitsubishi Lancer Evo X
3
4:25:52.8
+1:05:57.8
+4.0
21
87
Jose A. Gelvez monterrey
Borja Rozada
Mini John Cooper Works S2000
2
4:31:37.3
+1:18:52.3
+12:54.5
22
100
Razvan Vlad
Daymon Nicoli
Ford Fiesta ST
5
4:39:45.6
+1:19:50.6
+58.3
23
101
Peter Dunn
Andrew Saul
Subaru Impreza WRX Sti
3
4:44:45.6
+1:26:50.6
+7:00.0
(Visited 57 times, 1 visits today)