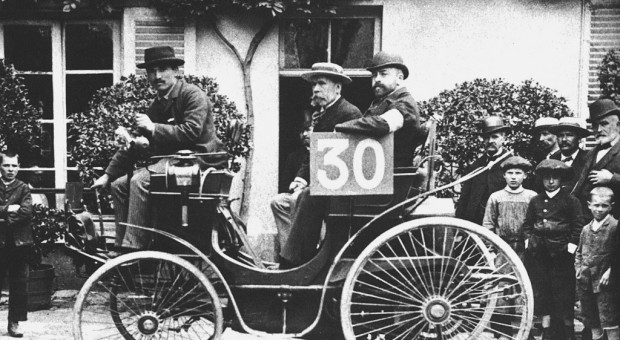 1894, The world's first automotive endurance race
It is 22nd July, 1894, in Paris. Throngs of people line the sides of the road, as far as the eye can see. Whether out of pure curiosity or to support the drivers during this exciting competition – they have all come to witness the world's first automotive endurance race with "horseless carriages", as the Parisian organizer "Le Petit Journal" officially announced. The world's first automotive endurance race.
However, only 21 of the 102 vehicles registered are present at the start. An air of tension and anticipation surrounds the participants as they impatiently wait for the starting gun. This will be their great day.
The day they show the world the technical wonder they have created
A wonder which can withstand even difficult conditions. In addition to the wagons with gasoline engines there are also a number of steam vehicles which are popular in France at the time.
Paris–Rouen, Le Petit Journal Competition for Horseless Carriages (Concours du 'Petit Journal' Les Voitures sans Chevaux), was a pioneering city-to-city motoring competition in 1894.
Some anglophone sources call it a race, a rally or a trial, and it is sometimes described as the world's first competitive motor race although the initial announcement stated that "it will not be a race".
The participants face the challenge of travelling 126 km from Paris to Rouen in their vehicles. Gottlieb Daimler and his son, Paul, follow the endurance test on location. Paul Daimler will later record his impressions and experiences during the race.
The competition was organised by the newspaper Le Petit Journal and run from Paris to Rouen in France on 22 July 1894. It was preceded by four days of vehicle exhibition and qualifying events that created great crowds and excitement. The eight 50 km (31 mi) qualifying events started near the Bois de Boulogne and comprised interwoven routes around Paris to select the entrants for the 127 km (79 mi) main event.
17 of the 21 vehicles competing reach the destination
The Panhard-Levassor and Peugeot brands are declared the joint winners, their vehicles are powered by Daimler's 3.5 hp two-cylinder V engines. With an average speed of 17 km/h they cannot exceed the speeds achieved by cyclists yet they impress experts and the public with their exceptional driving and transport performance. Although a 20 hp De-Dion-Bouton steam wagon is the first to cross the finish line, the powerful heavy machine violates the competition's rules. Because of its impressive performance it is honorably awarded second place.
The world's first endurance race 120 years ago represents the start of Mercedes-Benz's successful motorsport car history. Vehicles using engines with Daimler's design continue to win victories in the following years. The successful races during the 1890s awaken a lasting passion for motorsport and contribute to the rapid rise and development of automotive manufacturing.
(Visited 238 times, 1 visits today)