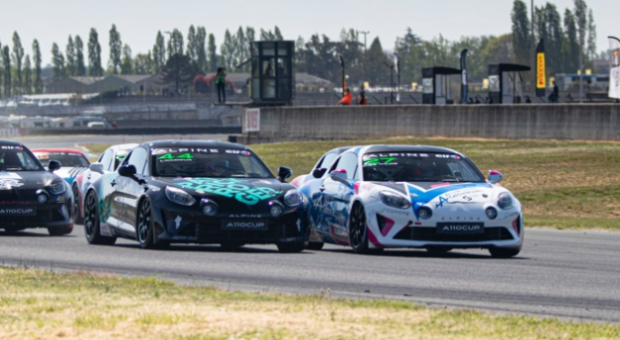 An intense selection process saw the 3 drivers put through the paces to test their ability.
Not just by breaking down their performance on the track, but the drivers also went through strict cognitive and physiological tests to assess their talents and find their optimal performance.
The 3 drivers will compete for Alpine Esports in the F1 Esports Series, starting later this year, on the new F1 2022 Game from Codemasters. The drivers will also represent the team through appearances and content including in the 2022 season of "The Conquest": a mini-documentary series that will follow the challenges faced by the drivers, as they tackle the biggest competition in sim racing.
Re-Introducing Patrik Sipos for 2022
Patrik is an 18-year-old young Hungarian and 2022 will be his second season under the Alpine Esports colours.
His first season was convincing for the team, collecting his first points, and making it through to Q3 in multiple races. Patrik is one of the rising stars of F1 Esports and 2022 will be a key year that he cannot wait to get started with! Patrik's talents are not just limited to the popular F1 games, as he participated in the Le Mans Virtual race with the Alpine Esports n°36 team, managed by Fernando Alonso. He has a clear aim this season: compete at the front of the grid and win his first victory in the F1 Esports Series.
Fresh for 2022: Samuel Bean & Filip Prešnajder
Samuel is an 18-year-old young Spanish driver, whose motorsport career started in karting and soon propelled him to the world of virtual racing. Samuel successfully qualified for the F1 Esports Challenger Series in 2021, and has already gained himself a reputation in the grassroots competition. Samuel finished in 6th place in his first series and fought his way to victory during the season. Alpine Esports believes that this young Spaniard is one of the talents to follow during the 2022 season.
Filip is 19-year-old and from Slovakia. His Sim Racing career started with his victory in the Challenger Series on PlayStation in 2019. He quickly transitioned to PC Sim Racing, where he joined the Scuderia Ferrari in 2020. His first qualifying with the team impressed everyone, by finishing in Q3, and in the top 6 of the race. In 2021, he moved to Alfa Romeo, where he faced a challenging season. Filip is keen to display his true talent and potential with a new team and a new attitude at Alpine.
Heading up the training and development of driver talent at Alpine Esports;
Richard Arnaud – Team Principal Alpine Esports
"2022 is a new step in the development of Alpine Esports. Our team has been reshaped this season. We probably have the youngest team on the grid, but we have our ambitions. 2021 was a learning year for everyone with ups and downs, but I believe that we have a very solid base and the chemistry in the team is already extremely positive. We do not expect to be the favourites on paper, our target will be to do as well as last year when we finished 5th and to fight for podiums. The entire team is super motivated to bring Alpine Esports as high as possible!"
Drivers thoughts about their upcoming 2022 season:
Patrik Sipos – Alpine Esports F1 Esports Driver
"I am happy to continue with Alpine Esports, last year was a strong learning year where I was able to score my first points and proved that I am capable to compete at the top. I am hungry and cannot wait to start the 2022 season and put Alpine Esports at the front of the grid!"
Samuel Bean – Alpine Esports F1 Esports Driver
"This year will be my first one. I have a lot of ambitions; one of them is to learn of course, but for sure I aim to score my first points for the team as soon as I get an opportunity. Like Fernando during the Grand Prix, I hope to shine in the virtual world. I will give my maximum to the team!"
Filip Prešnajder – Alpine Esports F1 Esports Driver
"After 2 years in F1 Esports, I wanted to start a new and ambitious project, able to give me a chance to prove my value. Last season was difficult, as I was combining Esports with my studies, but now that I have completed my degree, I am 100% focused on esports. Alpine Esports has already proven to be a place where drivers are given great opportunities to succeed, so I cannot wait to start and be one of the positive surprises this year!"
Source: Renault / Alpine
(Visited 15 times, 1 visits today)