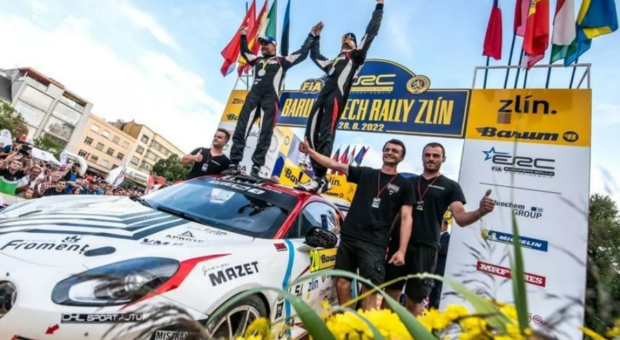 Three Alpine A110 Rally cars were entered for the fourth and penultimate round of the FIA R-GT Cup, the Barum Czech Rally Zlín with Frenchmen Raphaël Astier and Manu Guigou as well as Czech driver Jakub Jirovec.
On this event where the Berlinette won three of the first five editions in the hands of Vladimír Hubáček in the 1970s, the A-arrowed brand was at the sharp end from the start. Second in the general classification and obliged to beat Raphaël Astier to keep his title hopes alive, Manu Guigou was the fastest in the opening super-special on Friday evening in Zlín.
The next day, his rival replied on an atypical, wet and massively tricky route. With four best times in six timed sectors, Raphaël Astier gradually increased his lead despite Manu Guigou's fightback on SS5. The CHL Sport Auto driver ended the first leg with a lead of more than two minutes over his rival while Jakub Jirovec completed the top three on home soil.
On Sunday, Raphaël Astier showed no signs of letting up, setting the best time on all the morning runs. After doubling his advantage in increasingly muddy conditions, the leader controlled the proceedings in the final kilometres to claim his third win of the season ahead of Manu Guigou and Jakub Jirovec on the all-Alpine A110 Rally podium.
2018 FIA R-GT Cup winner Raphaël Astier also sealed the title by adding another line to Alpine's impressive motorsport record by taking over from Pierre Ragues, who also won with Alpine last year. In addition, the efforts of the three crews enabled the Signatech-designed car to extend two great runs in this competition with a tenth consecutive victory and a streak of 132 stages without being defeated.
Alpine now shifts its focus to the fifth and final event on the FIA R-GT Cup calendar, RallyRACC Catalunya (20-23 October). The event will also host round 12 of the FIA World Rally Championship, whose first champion was the A-arrowed brand in 1973.
Barum Czech Rally Zlín 2022
Raphaël Astier – Frédéric Vauclare (Alpine A110 Rally) 2h08:11.3s
Manu Guigou – Kévin Bronner (Alpine A110 Rally) +5:17.1s
Jakub Jirovec – Vítězslav Baďura (Alpine A110 Rally) +11:26.0s
Martin Rada – Jaroslav Jugas (Abarth 124 Rally) +19:30.0s
Roberto Gobbin – Ismaele Barra (Abarth 124 Rally) +20:38.1s
FIA R-GT Cup 2022
Raphaël Astier 93 points
Manu Guigou 61 points
Roberto Gobbin 36 points
Martin Rada 22 points
François Delecour & Jakub Jirovec 15 points
Christophe Casanova 12 points
Ian Crerar 6 points…
(Visited 657 times, 1 visits today)