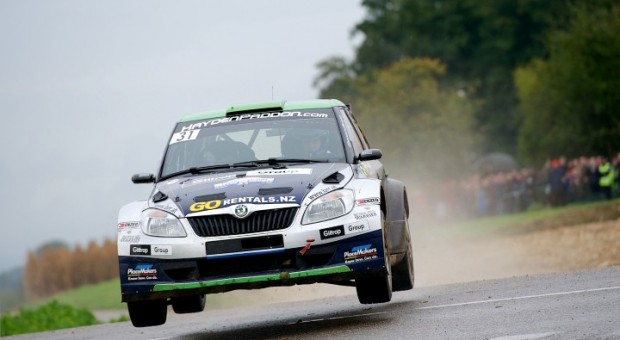 Paddon takes clean sweep of stage wins to finish Rally Australia
New Zealanders Hayden Paddon and John Kennard put the pedal to the metal in the final day of Rally Australia to win all six stages in their WRC2 category.
Their outright speed in their Skoda Fabia Super 2000-spec rally car was best demonstrated by the event's final test, the power stage, when Paddon's time put him sixth quickest overall and faster than full-time WRC drivers Mikko Hirvonen and Jari-Matti Latvala who were seventh and eighth quickest respectively driving considerably more powerful cars.
Paddon's final placing of fifth in the WRC2 class didn't reflect the Kiwi's stunning turn of pace on the final two days of his third World Rally Championship event of the 2013 season. But having missed all of Friday's stages due to an electrical issue which prevented them even making it to the start of Friday's first test, Paddon and Kennard knew a repeat podium placing in the WRC2 class – they finished third in class in both Finland and Germany – was unlikely to be within their reach once they restarted on Saturday morning with a repaired car.
In total, Paddon was the fastest, or equal fastest, WRC2 competitor through 10 stages and he reports: "It was a clean sweep today with six stage victories in WRC2 to cap off a rally of 'what could have been'. Nevertheless the times and speed were always as important, if not more important than the result, and we are happy with the speed we had throughout the weekend.
"Today [Sunday] we didn't have any problems and had a smooth run through the stages. The first two stages on both loops didn't suit our S2000 car – long corners combined with a soft, sandy road surface meant that our lack of engine torque really hindered us. The final stage of both loops was a hard-packed, more flowing road which meant we could carry more momentum. This worked in our favour and we were able to set better times on this stage. In fact we even managed sixth overall amongst the WRC cars on the final stage.
"Despite missing out on the WRC2 win which had been our aim, I think we bounced back as well as we could have done. We can only hope that the people we are trying to impress will look through the unfortunate electrical issues which were no one's fault."
Paddon heaped praise on his crew, all personnel who have been working with the double New Zealand Rally Champion and 2011 Production Car World Rally Champion for a number of years.
"The guys have done a great job, first fixing the car on Friday and through their Kiwi ingenuity – with a severe lack of spare parts due to budget constraints – keeping it running strongly to the end. They all went above and beyond to get the car going as well as it did. Also everyone at Baumschlager Rallye & Racing (BRR) was a big help, assisting us to prepare the car before leaving Europe and helping us get up to speed with running our own Skoda.
"I'd also like to thank all our loyal partners and fans and supporters who were cheering for us on the stages. It was an amazing feeling seeing so much Kiwi support!"
Qatar's Abdulaziz Al-Kuwari took the WRC2 class win and now leads Robert Kubica by 17 points in the title standings. Paddon earned 10 championship points and moved into eighth equal on the WRC2 leader-board.
At this stage, Paddon and his management team are still trying to find opportunities and budget for future international events – there are three more WRC events this season, and they're still working hard on plans for 2014.
---
Source, please read more.
(Visited 4 times, 1 visits today)